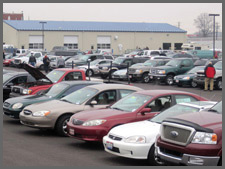 Public Repo Auction
Every 1st & 3rd Wednesday @ 9:30 a.m.
Public buyers are welcome to participate in our repossession sale (public repo auction). The public repo auction offers a large selection of repossessed cars that belong to area banks, credit unions, finance companies, and other lenders. Not all the vehicles in the auction will be in good working order, so if you want to get a nice car for a great price you will need to do some homework.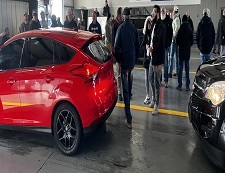 Plan arriving early on auction day to allow time to inspect the cars. We require a valid ID and $500 cash deposit in order to receive a bid badge. If you do not successfully bid on a vehicle, your deposit is refunded to you. If you successfully bid on a vehicle, your deposit will go toward the purchase price and you will be required to pay the balance in form of cash or cashier check by 5 p.m. on the day of the auction. If this is your first time attending an auto auction in Ohio, you should review our beginners guide.
Tuesday afternoon you will find an updated run list of the vehicles that will be up for sale. If you are wondering what an "average car" sells for at an auction, you can view our public market report. To gain quicker access to our lot on auction day, you may pre-register.
Thank you for showing interest in OKI Auto Auction. Hope to see you at our next public repo auction.